How to Contact Us:
Richard E. Gilbert
Ashland Investments
640 S. Washington Blvd.,
Suite 200
Sarasota, FL 34236-7108
Voice 1-941-957-3760
Fax 1-941-365-4931
---
Complete Price Guide to Antique Jewelry
Over 1,000 illustratoins
Price listings for over 700 styles of jewelry
The most complete and current price guide on the market.
History, Tips and Information on

Diamonds
Enamels
Cameos
Rings
Pearls
and more!
$15.95 + S&H
United States add $10.00, All others email for cost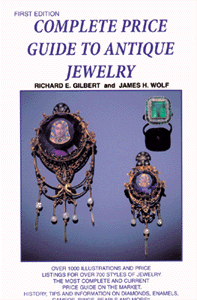 Ashland is proud to present this "Premier" book of values, information and photographs of estate and antique jewelry.